Calls-to-action are key to the success of your online marketing strategy.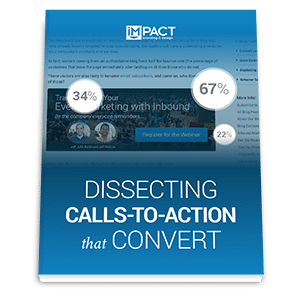 Which is why understanding the anatomy of a successful call-to-action is critically important.
We all know a great call-to-action needs to stand out and convey value.
But what about the less obvious characteristics that contribute to the success of a CTA?
We've compiled data based on our own study of calls-to-action with over 100,000 views, revealing the anatomy of a successful CTA based on placement, content, and visual elements among others.
In this guide, you'll learn:
Real data revealing the characteristics of a successful CTA
How to create a successful call-to-action (copy and design)
How placement affects conversion rates
The content and visual elements that signficantly impact the success of your CTA
Check out this guide of comprehensive data and make the adjustments to your calls-to-action that will help improve conversion rates.